Varsity scholarship finder website
Varsity scholarship finder website
Varsity Scholarships welcomes you to the best scholarship finder website.. Looking for scholarship, funding, fellowship, studentship or academic financial links? you are in the right place. Varsity Scholarship website provide opportunity to apply for scholarship worldwide. We are glad to inform all , regardless of your course of study, area of specialisation, interest, colour, and descent or country of origin that you can apply for a scholarship via Varsity-scholarship. This means you do not have to do much search on the web to apply for your desired scholarship, we have all on this site. 
Do you like what we do?
please help us keep the varsity scholarship finder website by coming often for fresh information.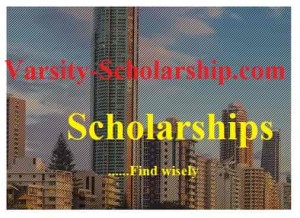 Comment on Varsity-Scholarship for professional help and advice.
always click on ads on Varsity-Scholarship to support our sponsors . 
To support us , please contact us via admin (at) varsity-scholarship.com.
Below are the list of scholarships closing soon…………….apply now ………
Chalmers is a highly progressive university situated in Gothenburg, Sweden. Chalmers have become known for education, research and innovation ….
Canada Banting Postdoctoral Fellowships.
 Banting Postdoctoral Fellowships program provides funding to  postdoctoral applicants, who will positively contribute to the Canada economic, social and research‑based growth……
King Fahd University Scholarships.
 The Deanship of Graduate Studies at King Fahd University of Petroleum and Minerals (KFUPM) is pleased to invite your attention that application to Graduate Studies at KFUPM is now open…………..
Liaoning China Government Scholarships  .
In order to  promote the development of higher education of International students in Liaoning Province, Liaoning Government has set up the Scholarship for International students.
Asian Development Bank Internships.
The Internship Program is a project-oriented learning opportunity for graduate students to gain experience through research assignments based on ADB's current operational needs.
 New Zealand Development Scholarships (NZDS) give candidates from selected developing countries an opportunity to gain knowledge and skills…….
International Monetary Fund Fellowship Program.
The IMF invites applications for its Fellowship Program . The program supports policy-relevant research of interest on macroeconomic and financial issues.
The School of Economics at The University of Queensland is offering scholarships for outstanding Vietnamese students seeking admission into either an undergraduate or coursework.
Need more scholarship help? Follow the links below.
See more via
Comments and Discussion
comments